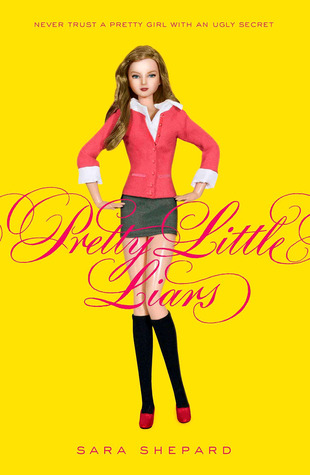 5 do you have a secret stars..
This was a pretty good book. I did the opposite and started watching the first season of this show. I had already bought this book and it has been sitting on my kindle for over a year. Thankfully one of my challenges had got me to read this! warning.. their might be spoilers so read at your own risk...!!!!
This story is close to the tv show. There is a group of friends who are in 7th grade. they funny thing is they each have their own dirty little secret. that is until one day one of them goes missing and everyone will change. 3 years later everyone is getting messages about their dirty little secrets which will spring up tons of questions!! the story will switch pov each chapter which is easy to follow..
Allison: She is the most popular girl in school that everyone loves to hate. She seems to befriend all these girls and is either with them or they will tell her what their secret is.. sadly she will be the one who goes missing..
Spencer: she comes from a rich family who is constantly competing with her older sister. Spencer seems to be attracted to her sisters boyfriends and the funny thing is they like her too! now (A) is sending her messages about who she knows. The sad part about Spencer is her parents clearly don't care about her and it is frustrating to read when it happens
Emily: she loves to please her parents, but hates that they are making her join the swim team. it is all about scholarships. she be-friends the new girl who moved into a's old house but finds herself confused when this new girl tells her she is gay and likes Emily...
Hanna: you can say she is the DUFF. her dad even called her a pig when she went their to visit. she started making herself throw up and now is a skinny bitch.. really. she has a stealing problem and is determined to make her boyfriend ditch is virginity promise. she will find herself in a bad spot when her looks cannot get her out of trouble.
and Aria: her dad is a professor and cannot keep his hands of the young girls. She caught him and since then they moved to Iceland. now that they returned the secrets keep coming back. she didn't want to return and one night at a bar she found a guy and got pretty heated. only to find out that this boy is now her English teacher. can she keep her cool or will she continue this affair and get both of them in trouble